Publié le 22/06/2018, par
huayuan
, Bondi Beach
Visual drawing pads like the Artist 22E Pro creative pen display have, with various levels of success, done away with many downsides of traditional drawing pads.
It's a relief to skip the process of retraining your hand-eye coordination when you get a new tablet. A pen display has a screen where can see your work and draw directly on it, instead of having to look at a separate computer screen like you do with traditional pen tablets.
It feels more like drawing or painting "for real." Minus the joys of sharpening, stray brush hairs, eraser fuzz, and grooves in the paper...This makes pen display tablets like the 22E Pro ideal if you're eager to get started without that disconnect and learning curve.
Note that the 22E Pro must be plugged into a computer to work. If you need a standalone pen display you should look at the Wacom Cintiq Companion / Ipad Pro / Surface Pro instead.
Before you choose a pen display, you'll also want to think about these factors:
What You Will Use It For
Do you need powerful software? You will need a decent computer to run it, and a pen display that's compatible and strong enough. Budget options aren't always compatible with top software.
Your Budget
Wacom Cintiq pads are known for being pricey. The quality merits the price, but it can be out of many artists' financial reach.
There are products that cut the price tag by sacrificing quality, and there are greater Cintiqs with an even higher price. The 22E Pro is cheaper than the typical Cintiq , but still delivers.
Where You Will Use It
Are you looking for something to use on train rides, or bring to work or school?
Weigh your needs for power and drawing space against the portability and price to find your best fit.
Build Quality
A lighter, cheaper tablet often means a weaker build that's more prone to damage, and less powerful machinery. However, reliable brands can balance this well.
Somewhere between minimalism and versatility, you'll find the sweet spot for your digital drawing needs.
XP-Pen a professional and reliable supplier of graphics tablets,pen display monitors,light pads,stylus pens and more digital graphical products. The new XP-Pen Artist 22E Pro sits somewhere in the middle ground. 21.5-inches graphics tablet that – like its Artist brothers – has an integrated display so you don't have to keep one eye on a separate computer monitor. It's about as close to real drawing you can get without getting out a pen and paper. the XP-Pen Artist 22E Pro HD Ips Digital Graphics Drawing Tablet Monitor provides easy access to shortcuts allowing comfortable experience, making it the perfect companion for your notebook, desktop or workstation.
Dimension: 517 x 321 x 30mm
Display Area: 476.64 x 268.11mm
Display Resolution: 1920x1080 pixels
Adobe Color Gamut Coverage: 77%-82%
Pressure Levels: 8192
Resolution: 5080 LPI
Report Rate: 266 reports per second
XP-Pen Artist 22E Pro Features And Benefits
The Artist 22E Pro driver supports 4k displays, now you can enjoy every sharp detail. The custom-designed anti-reflective coating reduces glare by 56 percent. Your screen will continue to look clear and beautiful, even if it's bright out. now XP-Pen Artist 22E Pro is available in Amazon Australia – for $769.99 : https://www.amazon.com.au/XP-Pen-Artist-Graphics-Pressure-Sensitivity/dp/B07DWGWDNQ .
The Interactive HD Screen
The Interactive display is 21.5 inches and it's amazing! The resolution is great, the colors on this are incredible and when I see my labels or other design work it looks like a final color print. Photos and illustrations look great. The anti-glare coating is really good.
The main attraction on the Artist 22E Pro is easily the display panel. The screen come with a resolution of 1,920 x 1,080 for full HD viewing at a smidge over 165 pixels per inch. Wrangling 77~82 percent of Adobe's RGB gamut, the panel sorts 16.7 million colors and offers 250 cd/m2 of brightness.Since it is an IPS screen, the viewing angle is nearly 180 degrees (178 to be exact) so colors are displayed accurately even when viewed from the side. "Semi-gloss" probably describes the surface best as it provides just the right amount of sheen without tossing back too many reflections from outside lighting. Viewing angles are also quite stellar . The screen was beautifully lit and I spotted no dead or damaged pixels in the display.
The drawing surface has a nice texture that simulates drawing on paper. It's smooth, but not slick, and has a slightly matte finish that has the added benefit of reducing glare, reflections and fingerprints. Pen strokes are fluid without any lag, even at the edges of the screen. The pressure varies smoothly and there is no noticeable parallax (the distortion effect that makes it feel like the pen tip is offset from the image due to the thickness of the glass).
I calibrate it with a Spyder2 rather doing it by eye since it gives you a more neutral result. The default color of the Artist 22E Pro is pretty good. I do this since I design mostly for print and consistent color is very important. Overall a superb quality display, way better than my older Artist 22HD.
In fact, the lack of touch-sensitivity is the one major disappointment I have with this entry from XP-Pen. but the 22E Pro was introduced as a screen only. While this was perhaps to keep its price at that magic $769.99 number, I think it hurts the device overall: We've gotten so trained at this point to interact with our screens that to limit it to just stylus and button input makes the 22E Pro seem crippled in a way. I can't tell you how many times I tried to pinch-to-zoom my canvas or tap on a window before I realized, sadly, that it just wouldn't work.
There were some reviews online that stated that the screen got a bit hot, but in my experience it doesn't have the problem of overheating, so you can safely use it.
A simple wipe-down every few days should be enough to keep your stand nice and clean.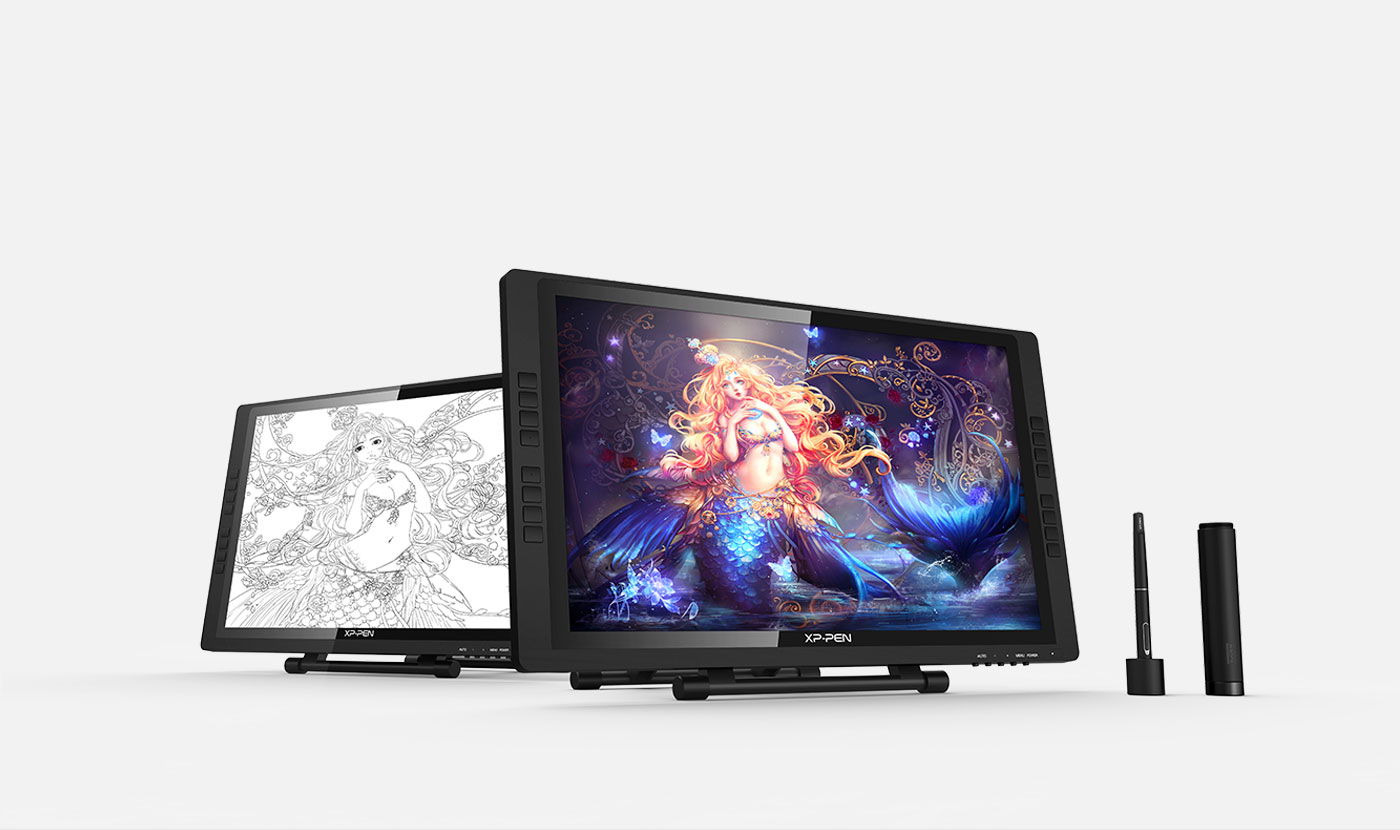 The Stylus
XP-Pen's powerful new P02S Pen with 8192 levels of pressure sensitivity, and a more comfortable, ergonomic design provides precise control and a better feel than ever.
Like with their other high-end models, the stylus that comes with the XP-Pen Artist 22E Pro is fantastic. The rubberized grip of the pen along with its size gives the stylus a great feeling when held and feels even better when drawing on the screen.
The stylus actually felt like a regular pen in my hand, which I really liked. It doesn't exactly feel like pencil to paper, but the great texture on the tablet's screen and the ease with which you can control the pen really makes the XP-Pen Artist 22E Pro to closest thing to the real deal when creating digital artwork.
Besides the usual pen holder, the Artist also comes with a surprisingly nice pen case to carry the P02S Pen and other included goodies — nib extraction tool and and 8 spare nibs. They were little additions, but it's the small things that XP-Pen does that really makes you feel valued as a customer.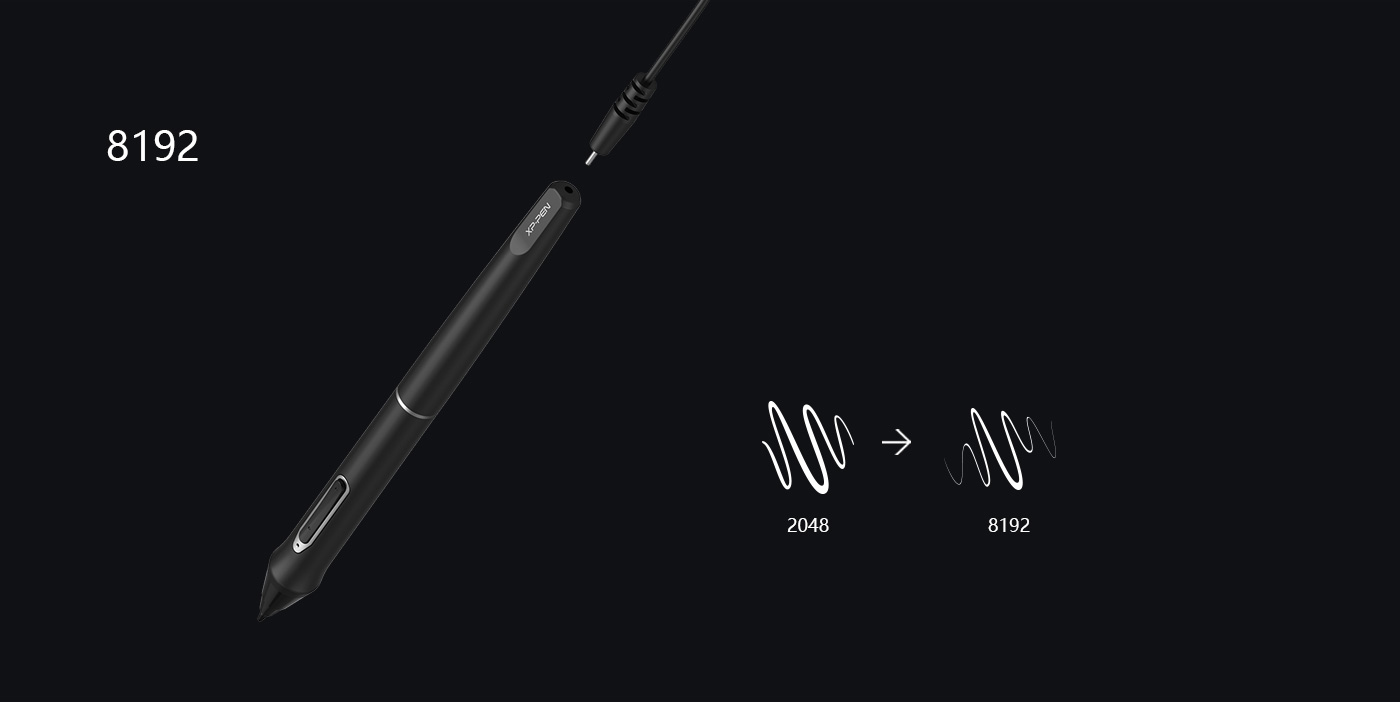 Set Up
the XP-Pen Artist 22E Pro isn't truly portable. It's a display and digitiser interface, not a computer in itself, and it doesn't have an internal battery.
It needs to be hooked up to a laptop or desktop, and needs to be plugged-in.
Set up is easy, plug the adapter into the wall, plug the HDMI and USB to your computer and download the latest driver from XP-Pen.com.
Install the drivers and you are ready to go (same on Windows and Mac). XP-Pen's drivers are solid and I haven't got any problems, again I don't really update the system to often. I use Windows 10 and Mac OS Mavericks, I prefer a stable computer than a new system with tons of problems.
The tablet's control panel is very customizable. You can customize the keys to your frequently used commands, circular command for even more shortcuts, adjust the pressure of the pen tip and the eraser. I'm an old school guy and I use the keyboard more than the Express keys and I leave the defaults alone unless I really need something different. I like the fact that you can add your apps and create customs sets for each of them.
Calibrating the pen is the most important thing to do in the set up process, you want to have the cursor as close as possible to the pen point. This is my third Artist and I have to say XP-Pen is improving the accuracy with each generation, the calibration is near perfect on this one!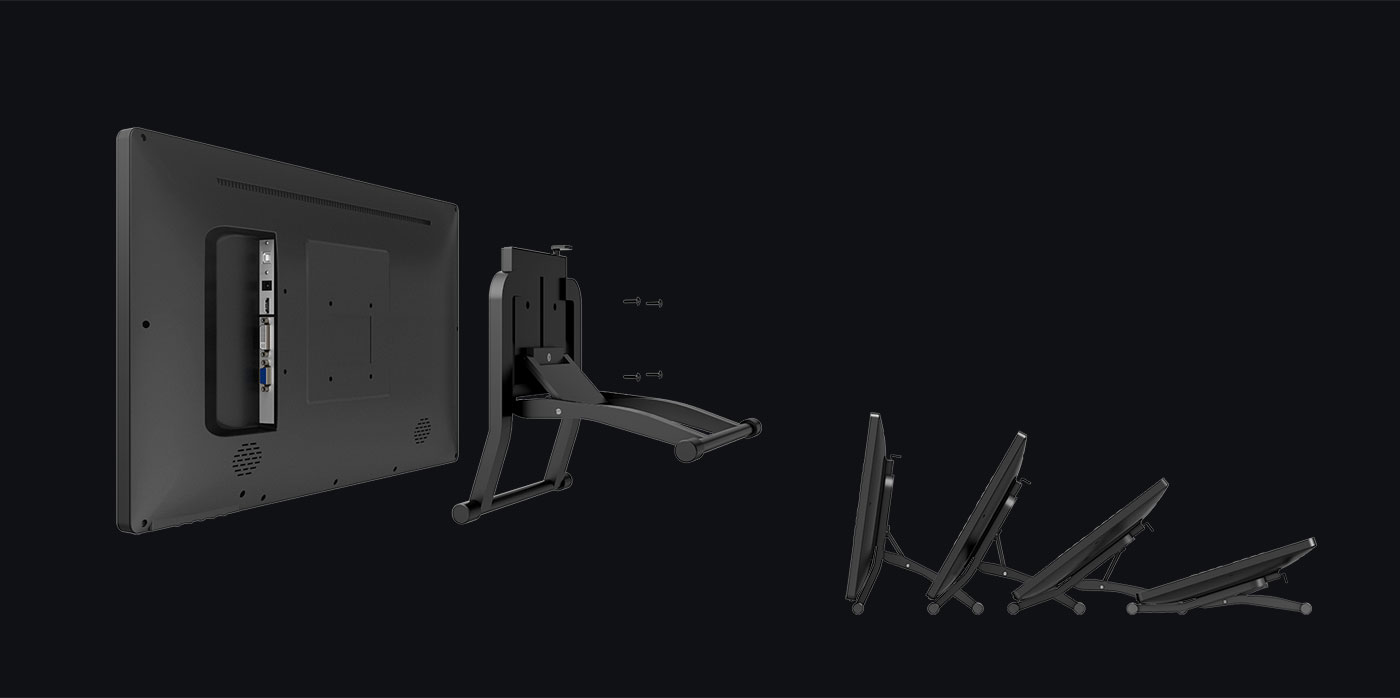 Experience of using the Artist 22E Pro
If you haven't use a Artist, well it will be a revelation, everything you do, you do it faster and better (or at least it feels faster). The drawing surface is nice and has a little grip to it, like a very smooth paper. One thing I like about this Artist is that you don't use your shoulder-arm movement to draw and you don't get as tired as with a large Artist. Quick sketching is particularly nice on this one. This Artist is precise, very, very precise, the resolution of the screen and the near perfect calibration of the cursor makes it a great tool for detailed drawing or graphic design.
Using it with Photoshop
Using the tablet with Photoshop is great, selections and masking are fast and accurate, you really use those 8192 levels of pressure sensitivity here. Also the colors are great, drivers work great with the latest version of PS and it's the best way to use Photoshop.
Using it with illustrator
Illustrator is my main tool for 80% of my everyday work, some people think that a Artist is not a tool for graphic design but I disagree. Using illustrator on the Artist is faster and way more accurate than the mouse or a regular tablet, it's so good to be able to hit those anchor points every time and move them around so precisely. I love it and I totally recommend it for graphic designers or vector illustrators. In this case the pressure sensitivity is not as crucial as the precision, good pen calibration is a must. Colors look great and the sharpness of type and graphic elements is fantastic.
With Corel Painter
I love Corel Painter, it's the best tool for digital painting and I've been using it for a long time. I love Painter's brushes, simply put there's nothing like it, I use Painter with Photoshop all the time, Photoshop's editing and color tools are better but Painter's brushes and simulation of real media are incredible. In Painter you take advantage of the pressure sensitivity of the Artist 22E Pro . Painter and a Artist are probably the best set of tools for illustration or digital painting.
Pros:
+ Bigger Drawing Area: If you like drawing big stuff and don't like zooming, this is your kind of tablet. There's more room for panels and references.
+ Really good color rendering: good for professional design, photo or illustration work
+ Great resolution: accurate precision and your designs or illustrations look so good
+ Anti-glare Screen Protector
+ 8192 pressure levels: You really use them on Painter and Photoshop
+ Great customization: 16 express keys for each program, radial menu
+ Durable: I've been using it my Artist 22E Pro for a year and it looks like new, it's build to last
+ Best tool around: XP-Pen is still the best when it comes to monitor-tablets
+ Great Pen with replacement nibs: Best pen for digital art, replacement nibs for a long time and a super cool case
+ Works great with a lot of digital software
+ Solid drivers for Win and Mac
+ Great design: is so good looking and works incredible well
+ Cool: this tablet looks cool and using a Artist is cool if you are a digital artist
Cons:
+ Not Portable: This is a full-size tablet and not meant for use on the go.
+ lack of Multi-Touch function
+ little expensive
+ No wireless option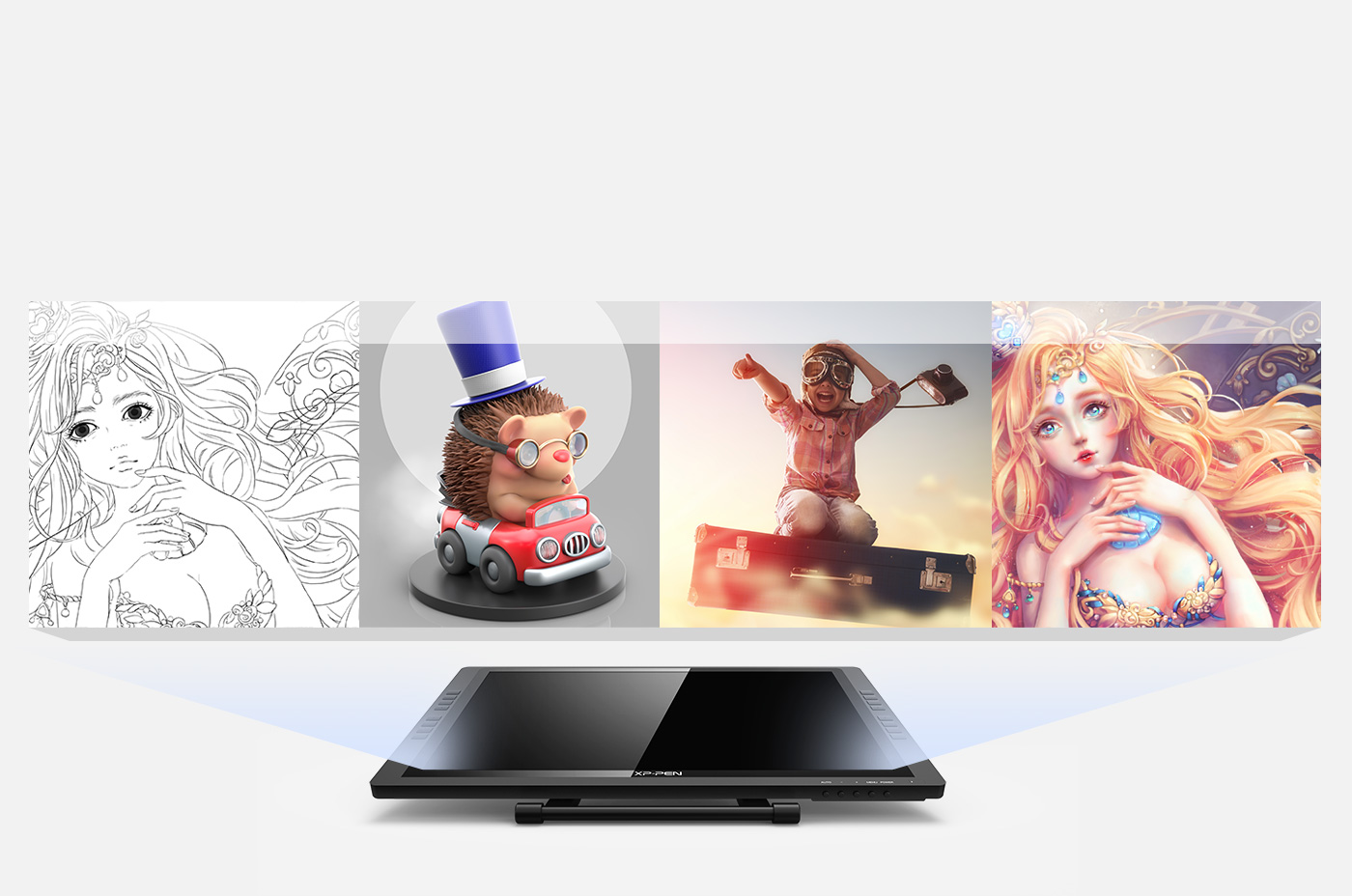 Conclusion…
The long-awaited XP-Pen Artist 22E Pro Interactive Pen Display Tablet is really everything you'd want out of a tablet as a professional.Artist 22E Pro has met or exceeded our expectations in nearly every way.
The large display spoils you with the amount of room you have to draw with and the high 1920 x 1080p resolution allows you to spot even the tiniest mistakes without having to look up at the monitor.
Most importantly, the pen-on-screen functionality performs beautifully. Drawing directly on the screen feels completely natural, compared to the extra eye-hand coordination that a regular graphics tablet requires. The stylus also doesn't disappoint with its fantastic rubberized grip and balanced size that'll make you momentarily think you're trying to use a regular pen on a tablet display.
For beginners and casual users, the price tag of the Artist may be a barrier, but serious artists and creative professionals will immediately recognize the benefits in both workflow and productivity. the XP-Pen Artist 22E Pro is a great buy for an artist looking to upgrade and become a pro or a company looking to invest in a product that'll make their workers more efficient.
All in all, highly recommended.
XP-Pen Artist 22E Pro official site : https://www.xp-pen.com/product/63.html
Commentaires
Ajouter un commentaire