Publié le 17/08/2018, par
huayuan
, Bondi Beach
Are you looking for a Cintiq digital drawing Pen Tablet review? You may have just gotten lucky, because Cintiq is no longer the only option on the market. The XP-Pen 13.3 is a budget alternative to the Cintiq 13HD , it's a tablet that lets you draw directly on the surface and can also be used as a third monitor.sometimes is perfectly fine to pick a cheaper tablet if you can't afford a Cintiq, because they work well and are enough.
I did get a new pen tablet , the XP-Pen Artist 13.3! I wanted to do a little review of it and give my honest opinion.
The product finally came in the expected date, less than a week, through courier. I was so excited!
This tablet comes in very protective packaging. It is encased in very sturdy foam and boards to keep anything from being bent, broken, and scratched. Color me impressed!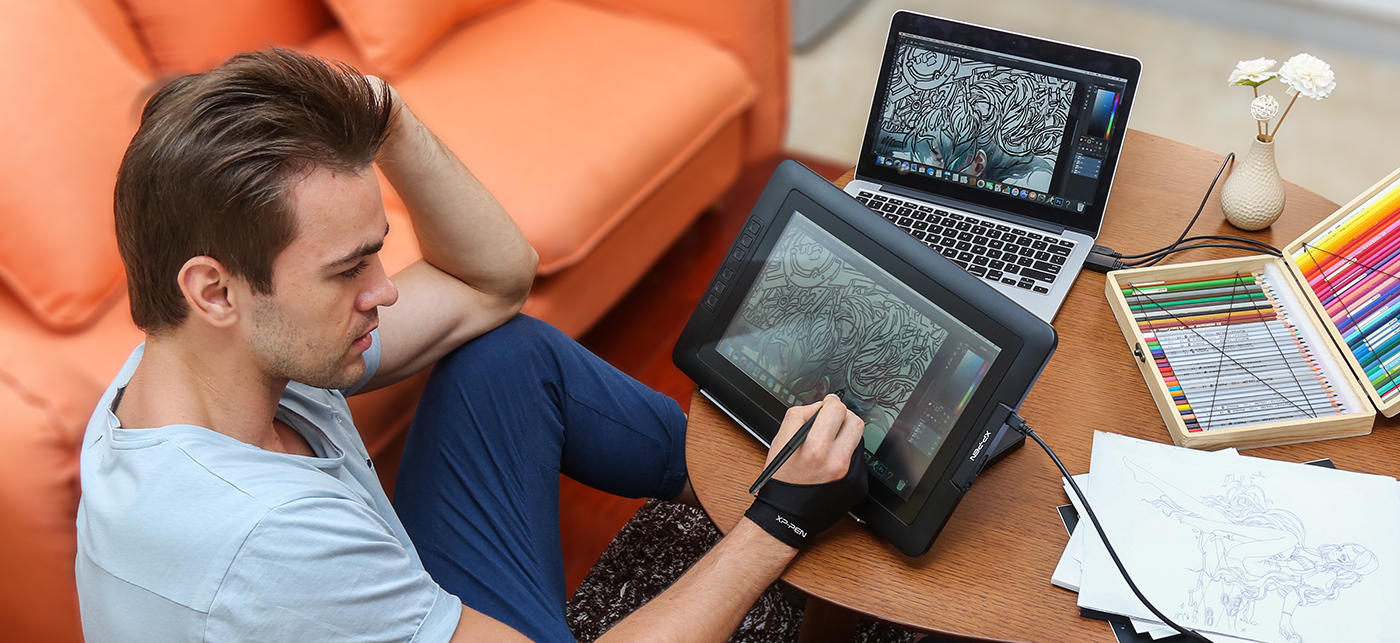 What's in the Box?
Comes with the tablet monitor, pen, 3 in 1 USB cable, HDMI to mac adapter cable, pen holder, 8 extra stylus tips , and an artist glove that covers the bottom half of your hand. No drawing softwares bundled with it.Everything included in the price (lower than 300€, still a deal). And it was truly beautiful.you can get more information from official site: .
First Impressions
It comes in a regular cardboard carrying box with a handle. which have a minimalist, all-white, Apple vibe with sharp graphics. Basically the box for this product looks like a cardboard carton you'd get your flatscreen TV in.
The XP-Pen 13.3 drawing monitor looks a lot like the Wacom Cintiq 13HD. It has a 13.3″ screen, The design is quite nice and professional, with a black color typical of electronics.
The Techical Details
Weight : 3.3KG (some more with stand and stuff)
Model : Artist13.3 V2
Active Area : 293 x 165mm
Resolution : 1920 x 1080(16:9)
Panel Size : 13.3inch
Pressure Level : 8192Levels
Pen Resolution : 5080LPI
Report Rate : 266PPS
OS Support : Windows 7 or later,
macOS : 10.11 or later
Viewing Angle : 178°
Gamut : 75% (Adobe RGB)
Display Color : 16.7M(8bit)
you can install the newest driver from their website ,The installation was kinda easy and fast. I sticked clumsyly the screen protector over the screen. I tried to make it right but this is same shit as sticking screen protectors on cell phones; it ends messy sometimes, with lots of bubbles. I finally let it be, because It doesn't gives me any issues for work (I maybe try to purchase another screen protector later just for the aesthetic). Please, try to use a ruler or something to stick slowly your screen protector, ok? ok.
The screen protector can be important. I worked years with a glass monitor and I liked it. The colors were clear and sharp. Once you stick the screen protector to your Pen Display , the feel is that everything looks a bit less clear (until you get used to it) BUT the protector allows us to work with less light reflections on it. Also, that screen protector is what gives same feel as working over a Cintiq tablet: some kind of paperlike feel. I'm not used to it but I enjoy it as well. I suggest to use the artist glove on them always, no matter if you use the screen protector or not.
The IPS Screen
Anyone that's used a tablet like this will tell you that the first thing you want to do is check out the pressure sensitivity and screen. To cut a long story short I came to the conclusion that I preferred the matt finish. At times it feels like your drawing on a high quality card and it's very satisfying. The color quality of the Artist 13.3 screen was every bit as vibrant as I was expecting it to be.
The manufacturer claims 16.7 million colors. The human eye can see about 10 million colors, so I'm not even sure how to tell the difference between the extra 6.7 million, but I can say that the color quality was brilliant from the right angles. From some other angles… the colors start to get more saturated than usual, which can really throw off the accuracy of your work.
Pressure sensitivity is a big deal. I mentioned the comparable Wacom earlier, and you can notice the difference in pressure sensitivity. This is very smooth in the transitions between a lot and a little amount of pressure. To show just how intuitive it is I recorded the very first time I drew lines on it. Needless to say I was impressed.
The P03S Stylus : The Magic Tool?
Definitely, for us, the secret weapon of this model is its smallest accessory. If we already described the forge for all your creations, now it would be the turn of the hammer that will give them shape: The P03S Pen.

This will be the tool that will make you feel that it do everything for you. It may be terrible or strange that the monitor does not have buttons to rotate or modify the space of the canvas. This can be solved by configuring these preferences on the buttons of the pen for have all the control.
Its ergonomic design is different to what is customary to see in other brands, not only looks good but feels very comfortable.
But what we find like the most impressive of this tool is the 8192 of pressure sensitivity. This allows you to degrade and make smoother paths almost as if we were drawing on paper.
You can leave the pencil resting on the base vertically or horizontally. This Artist 13.3's stand has a built-in nib extractor and 8 spare nibs inside that you can use to replace it.
Controls and Functionality
The Cintiq 13HD comes with 4 hotkeys, and 1 scrollwheel. The Artist 13.3 only have 6 hotkeys,Drawing on the screen was a pretty standard experience, and that's a good thing! I didn't really notice any glaring errors or extreme differences in quality.

Before I got carried away with painting I wanted to see how easy it would be to set up the hot keys. You simply open the XP-Pen Artist 13.3's software and chose the 'Press keys' option. Once you've done this, click on the button you want to set and a new menu will appear. In the new menu you can simply chose the keyboard key you'd like. It really is that easy.

The next thing I wanted to do was to throw myself in at the deep end and rustle up a sketch. I like to draw pirates so it seemed like an obvious choice for the subject matter – a quick 10 minute pirate sketch. It's nothing special, but within those 10 minutes I had gone from not knowing the device at all to feeling comfortable drawing on it and using the hot keys. It is incredibly easy to get used to and become comfortable with.
Without further ado I decided to really put the device through its paces and worked on an image from concept to completion. It was every bit as good as the previous XP-Pen I reviewed, but the matt finish of the screen quickly became even more appealing and the hot keys really helped me to fly through processes that would otherwise mean taking my eyes off the screen. Dare I say it; I found it even better than the equivalent Wacom I mentioned previously.
Working on it : Performance
I started drawing over it and I noticed how much well worked on both Clip Studio and Photoshop. It was amazing, so smooth, so steady. The jump from the +2000 pressure levels of my Artist 10S to 8192 pressure levels in my XP-Pen Artist 13.3 pen monitor was showing. I started to think on inking again in Photoshop because the wobbly lines are almost over in XP-Pen, but I enjoy so much inking in Clip Studio so well, I'm gonna stick with Clip Studio for linearts and Photoshop for color.
The screen is large enough, I had to put my toolbars in the middle of the screen to ease the motion in my arm (I have arm and shoulder pain sometimes so I try my best to not force them).
Compatibility
The XP-Pen Artist13.3 Pen Display is compatible with Windows 7, Windows 8, Windows 8.1, Windows 10; Mac OS 10.8 and Mac OS 10.10. or higher. It works with many softwares like CorelDraw, Corel Painter, Photoshop, Adobe Illustrator, Adobe Fireworks, Macromedia Flash, Manga Studio, Stratos3D Max, AutoDesk Maya and ZBrush. However, you should beware because the Huion company did not test out all these softwares properly. Your tablet may work with some versions of the software and not others.
As of now, there is no complete list with the versions that it is compatible or incompatible with. However, XP-Pen has really good customer service and you can always drop them a line with questions and suggestions. (Yes, I tested this out, they responded to my message in a couple days. Customer service was very polite and professional).
Pros
passive pen design doesn't require charging
8192 pressure settings recognized
3-in-1 cable reduces cord clutter
lightweight and small – easy to transport
very good resolution
works for left-handed people
shortcut functionality
great build quality
easy to use
affordable
Cons
no tilt functionality
no built-in eraser (though you can set one of the shortcuts for this)
some screen glare
no stand
no multi-touch function
In Conclusion
For $300, this is a pretty solid display tablet. I love it, and I think it's fantastic. Like anything else, it does have its cons, but the majority of the cons are generally able to be remedied. This tablet is more budget friendly than the Cintiq, but still just as good. I highly recommend giving it a shot if you're searching for a new tablet and you have the funds for it.
There's not a perfect tablet monitor, but the XP-Pen Artist 13.3 Monitor Tablet it's a very good (and affordable comparing to Cintiq) investment, and it's amazing. I recommend it SO MUCH to work professionally in daily basis, also for your art practice. If you can't afford a Cintiq this is a good option. Something important is that XP-Pen releases driver updates regularly, and they look like they are taking seriously the tablet monitor bussiness.
Commentaires
Ajouter un commentaire