Publié le 23/08/2018, par
huayuan
, Coogee
Hello friends, followers and watchers! This is not artwork, I know, but my latest purchase made me will to change the usual content I drop here, and indeed do a proper review of the thing. I was thinking about writing reviews on art supplies for some time, but heck, never went down into writing one. I mean, not until now, anyway! So, to cut it to the bone and the core of the matter – XP-Pen Artist 12HD Graphics Tablet Monitor. Is it worth it? Is it better or worse than Wacom Cintiq Pen display ? And if so, to what degree?
Feeling of Chinese Luxury : My biggest fear I had when I decided to give this XP-Pen Pen display a try was the quality of the components. It's not that all Chinese products are automatically crappy, but when you offer a product that is significantly cheaper than its main competitor (that is also a dominant force in the market in question) and promise same'ish features, you kind of start to expect them to cut some corners. And the quality of the materials is one of the easiest places to spare some expenses…
That fear was pretty much banished when I opened the package. fashion white box looked professional from the start, but after opening it, I was utterly delighted. Everything packed perfectly, all the components are there and they were as high quality as you could hope for. tablet itself is small and not heavy, but it feels just /right/ - plastics don't feel cheap at all, are smooth and polished. The entire tablet doesn't creak or give way to pressure, giving a feel of stolid solidity. Every other component is a delight too. Pen is light as a feather and comes in a quite luxurious case with all extra bits (Like spare nibs and a metal ring holder for nibs replacement). One thick, 3-in-1 cable is quite a pleasant thing and will surely save some cable clutter while connecting this pen display.
XP-Pen Artist 12HD IPS graphics tablet monitor has 11.6 inch full HD screen intuitive display, 1920 x 1080 high resolution, fashion designed ultra-thin body, HDMI and USB, adjustable holder, customizable up to 6 express keys, a touch bar, 8192 levels of pressure sensitivity, weigh 1.2kg.With 6 customizable express keys and 2048 levels of pressure sensitivity, you can perform each stroke with accuracy while preserving intensity and increasing work efficiency.
For $229, the XP-Pen Artist 12HD tablet is a pretty good tablet for artists who are looking for a cheaper and portable tablet monitor.you can check this product on XP-Pen official site https://www.xp-pen.com/goods/show/id/380.html .
What makes XP-Pen devices special is that its cheaper than Wacom without sacrificing on portability and features.The size of the XP-Pen Artist 12HD is actually pretty great! It's not too large and weighs around 1.5Kgs, making it possible for you to carry around the tablet wherever you go.

In fact, this is a list of everything that you get inside the box:
XP-Pen Artist 12HD Tablet Monitor , 3-in-1 Cable(HDMI, Power, and USB Cables Included),Pen Holder (New Digital Pen P06, 8 Pen Nibs, Removal Tool Included),Power Adapter,Quick Start Guide(Mac and Windows),Microfiber Cleaning Cloth,Artist Glove .
The key dimensions of the tablet are as follows:
Technical Specifications
Screen size:- 11.6-inch.
Screen resolution:- 1920 X 1080
Screen contrast ratio:- 700:1
Panel type:- IPS
Aspect ratio:-16:9
Screen viewing angles:- 178°
Pressure Sensitivity:- 8192 levels
Has a passive pen doesn't require charging.
Has 6 customizable hot keys and 1 touch bar you could configure to your heart contents
Upgrade from the Artist10S.
Comes with a 3 in 1 cable.
Can be used with both right-handed & left-handed people.
Screen Color Gamut:- 72% NTSC color
Colors:- 16.7 M
Resolution: 5080 LPI
Report Rate: 266 RPS
Product Dimension:- 364.11×218.87×11.5 mm
Active Area:- 256×144 mm
Windows compatibility:- Compatible with Windows 7, Windows 8 & Windows 10.
Mac compatibility:- Compatible with Mac OS / Mac OS X 10.8 and above.
The Tablet
The tablet is great for painting because it supports 8192 levels of pressure sensitivity. So, it'll be easier to draw on the screen with utmost precision. Further, the touch bar is upgraded from 8 levels to 24 levels and there are 14 user-defined shortcuts / express keys to make your experience smooth and easy.The screen resolution of 1920 X 1080 is high enough for drawing.
What makes the XP-Pen Artist 12HD tablet so great is that its the complete package. So, you don't have to hunt for a compatible pen or a stylus to complete your portable graphics tablet setup. Everything is covered by the company, which includes a two-level adjustable stand and a digital pen with 8 additional nibs.
I have had the opportunity to try several products of XP-Pen and this presents one of his best designs both aesthetic and functional, The body is almost completely plastic, mixing several finishes and shades with a striking result on the verge of being too much, but still a rather sober result. if you´re planning on painting outside home much or travelling a lot with the tablet.
The Glass Screen
The quality of the screen is definitely an improvement over other XP-Pen products, anti-glare, full HD, better viewing angles etc. But the problem comes when comparing it with the competition. Even more, after the last update of Wacom on the whole line of its professional products, raising the level of the screens to 4k and 99% RGB (which comes with a big price of course).
Colors may not be Artist 12HD's strongest point, especially with the 72% color gamut, which is around, this is considered normal color gamut, and unless you work in an environment where colors are super important, you won't have to worry much about this.
However it is possible to create stunning concept art even on a smaller screen. The exquisite frosting surface treatment technology brings me an unprecedented writing experience. just like the original feeling of paper writing.
When you make a mark on the screen it loads fast. The response time is incredible for this model and it's much better than other XP-Pen devices.You can draw from any angle and still keep a strong view of the screen. There's no major glare but there is a thin coating that makes the surface super smooth. Opinions vary on screen textures but I think this smooth screen works great. XP-Pen ships this unit with an optional screen protector .
The drawing experience is surprisingly accurate even with the smaller screen. You'll find no jitters in the work and the outer corners are still just as sensitive as the center LCD area. Every mark you make will instantly translate onto the screen with no lag time.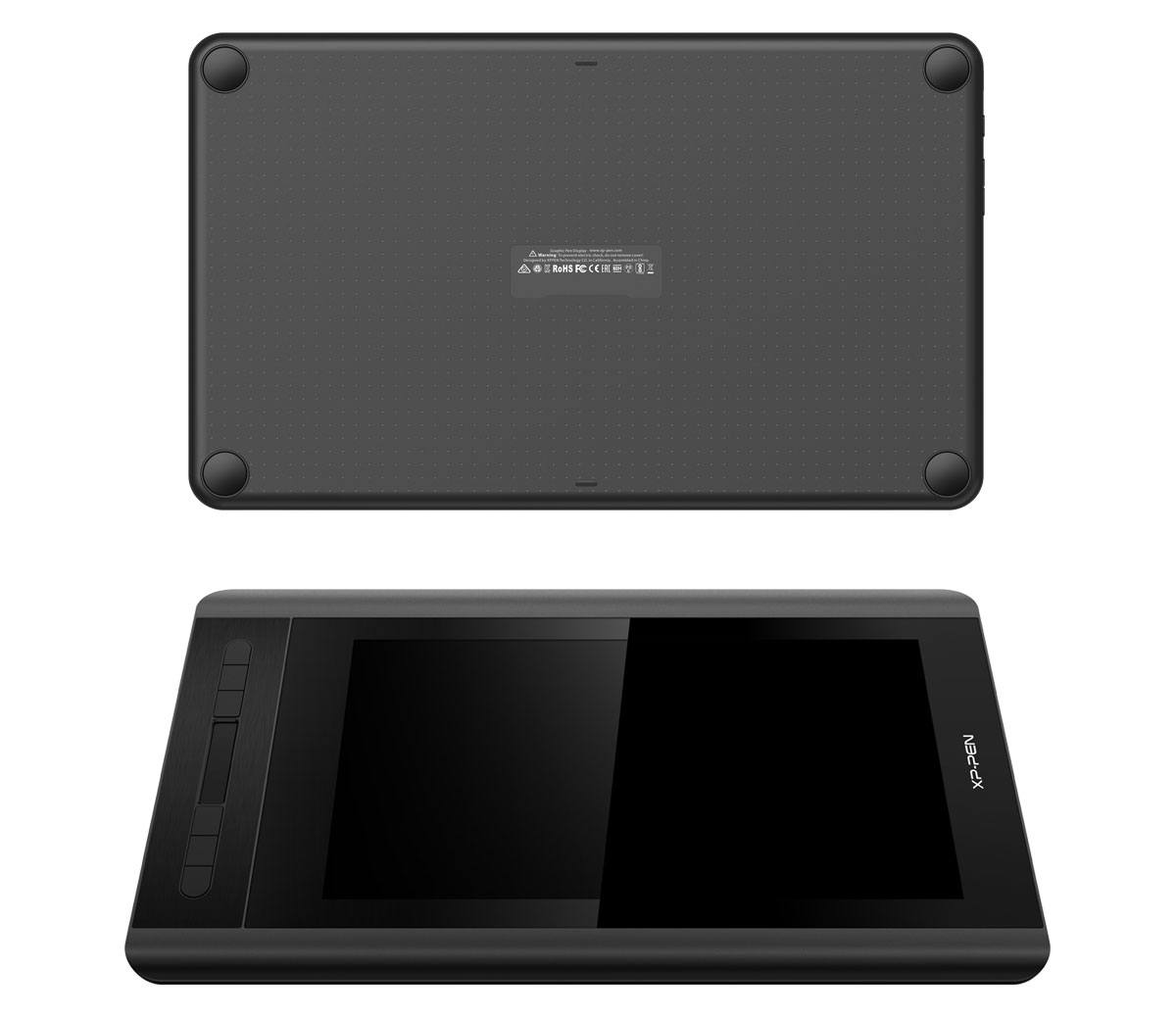 The 3-by-1 cable
This runs on DC power so it does need to be positioned near an outlet. But if it's on your computer desk then it can likely plug into the same outlet or power strip. The tablet is connected via an Hdmi, included in the 3x1 cable along with a usb and power supply. This last one has in itself a very curious fact, and is that the connector to the current is interchangeable according to the country where you live.
The sides and back are quite clean, we only have on the left side the 3-by-1 cable entry, the power button .The 3 x 1 cable keeps the work area fairly clean and it looks durable.
Since Artist 12 Graphics Drawing Tablet Monitor is compatible with HDMI there won't be much of issues connecting it to any modern computer, including any computer with a display port that can be converted to HDMI, like USB-C, Displayport & mini Displayport. The only time this may be an issue is in case you only have VGA port in your computer. I honestly don't know if workaround solutions would work if you're in such situation.
Bear in mind that XP-Pen Artist 12HD doesn't come with a stand. I don't think that's a deal breaker for many artists, you can buy XP-Pen's stand, buy a 3rd party stand, or make your own.
The Stylus
The P06 stylus also comes with a new design. Much more showy than its predecessor, although it does not contribute anything new,A detail that if I found a little annoying in the process of adaptation, is that the buttons are so deep inside the body that sometimes it is difficult to find them, Especially at night. Having said that, it works perfectly .
Since the pen is battery-free you'll never need to charge it. But if you've never used a battery free pen before then it can take some adjusting. One other nice feature is the pen button which replicates a right click on your mouse. But the button is sturdy so you won't find yourself pushing it by accident. The P06 battery-free stylus featuring digital eraser.
The driver
Speaking of the drivers, incredible improvement of the latest products I tried. Not at all 100% of course, there are still many things to polish, but they rarely fail and the configuration is quite simple.You can download the driver from XP-Pen official site or contact their customer service.
XP-Pen drivers installed within a minute, without any issue and the tablet connected after the installation not only worked perfectly from the start, but also had a surprisingly good Hotkeys already assigned in Photoshop – my main painting software. All in all, it wasn't any hassle to connect the tablet to my PC – both from the hardware perspective thanks to the 3-in-1 cable and from the software perspective, as the drivers worked flawlessly.
Customizable Press Keys and the touch bar
Since this is a smaller unit you'll only get six express keys. But this sacrifice might be worthwhile if you need a portable tablet.
Having 6 hot keys , as well as a touch bar for zooming in & out the canvas (you can customize it to do other things if you like). this allow me to increase my work efficiency. Tablet reacts to tapping well and the customizable hotkeys are really nice – tactile, responsive and easily reprogrammed to serve your purposes.
One of the aspects that most motivated me when I saw the photos of this tablet for the first time, was the touch bar. While I'm working, I use quite a lot the touch ring on my INTUOS to change the size of the brushes without stopping and I just love it because makes me go really fast. I tried it and I was very disappointed.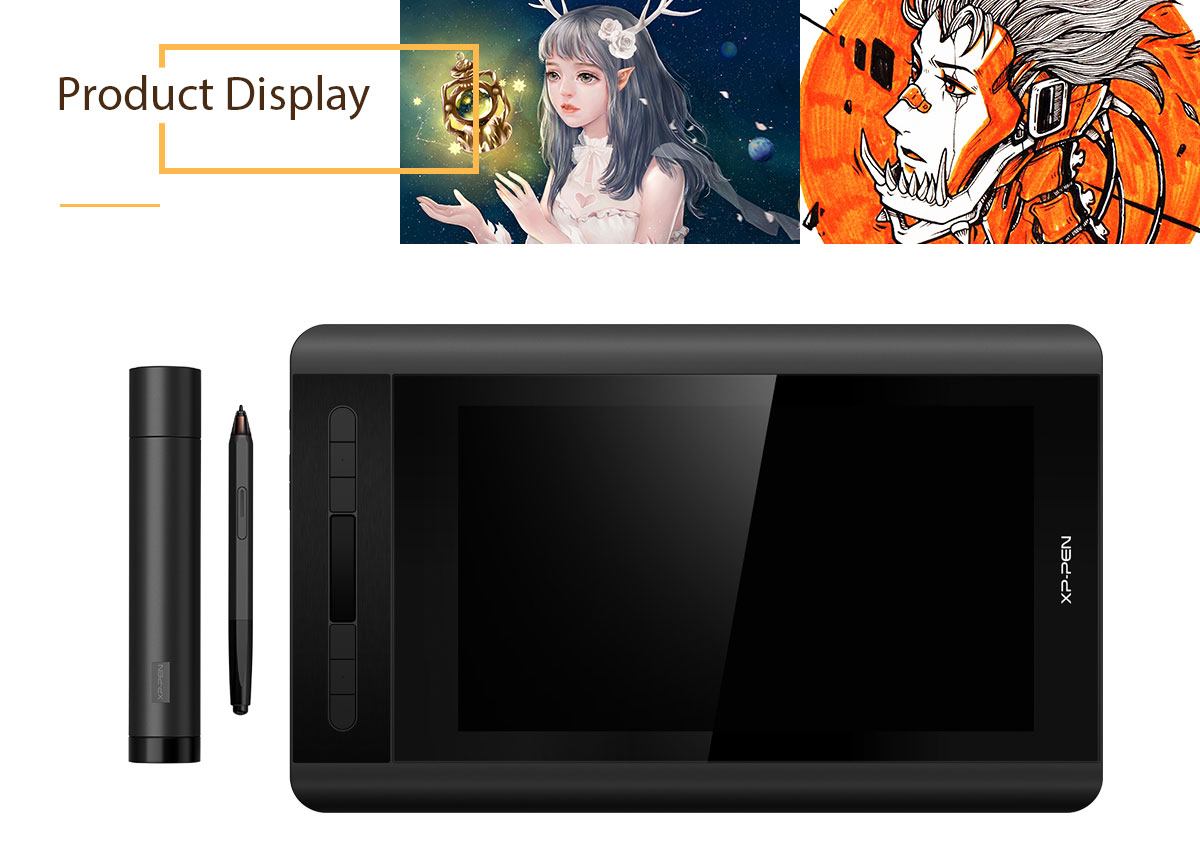 Good Quality, Excellent Price
I wasn't expecting the same quality of input and features as Wacom Cintiq offers. Simply because I still believe that Wacom Cintiq is significantly more expensive due to the final quality… And mostly because I have constant opportunity to check Cintiq at my workplace. It's smooth, it's responsive, it's polished. But Artist is not really far behind! Pressure control is pretty much the same as Wacom tablets, it feels very smooth and gives proper feedback.
To be honest, I don't feel any drastic downsides to XP-Pen tablet when comparing it to Cintiq. Screen is bright and clear, pen works flawlessly, feedback is great and constant… Where are the flaws in this tablet, considering how much cheaper it is?
Worthy purchase?
I think it is. I don't bash Wacom guys… I use their products for years and still work on Intuos Pro at work. And there are pretty much no issues with it. It's top quality stuff. But I also believe that their brand power is getting a little out of hand, and they charge a shit-ton of cash just because they can as a company that is placed and praised as an absolute sovereign of this market. And it surely was – About 10 years ago I had a Wacom Graphire tablet and a Pentagram XXL. I literally threw the Pentagram into the trash, where it belonged – Wacom had no competition in the past and so it builds an image of The Only Company for you, when you need a graphic tablet.
But the times changed, and more and more companies rise to test the mettle of the old king. If you want a screen graphic tablet with really satisfactory performance but don't want to splurge… XP-Pen Artist12 is a product I can fully recommend. For more than half the price-tag you get a device that is so similar, you hardly will feel a difference in most scenarios.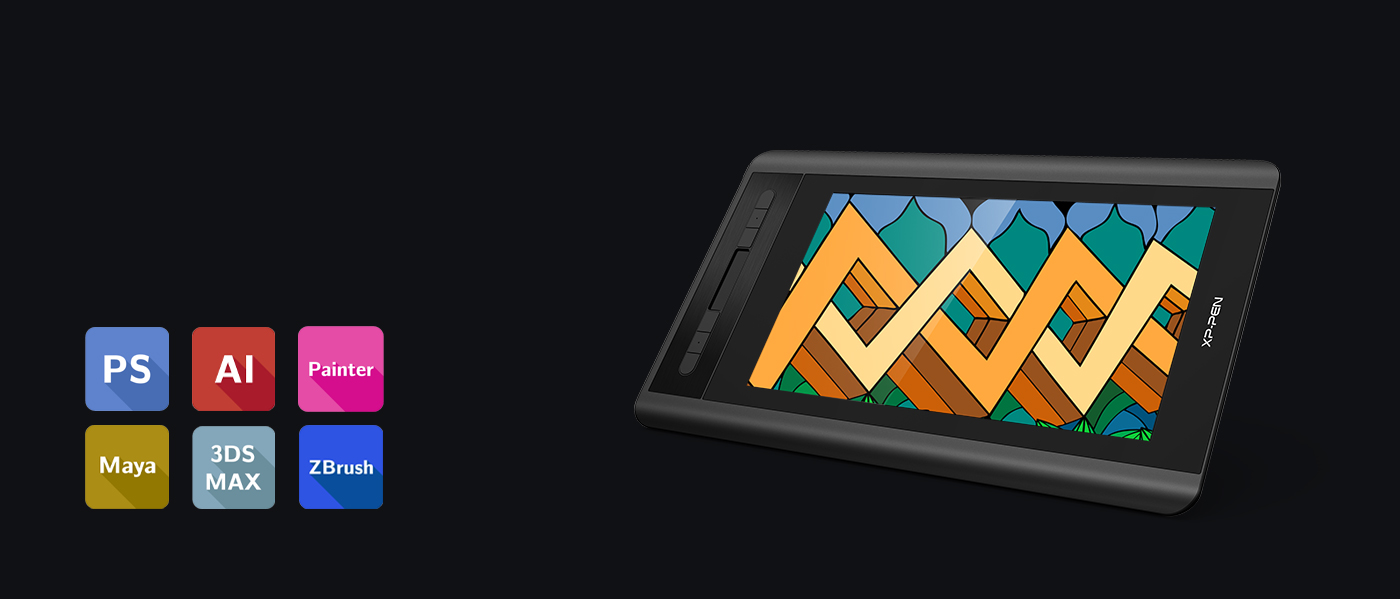 Conclusion
For the price and what it delivers, it is a very good option to start with this type of interactive Display Tablet XP-Pen Artist 12HD .
If you hold the tablet or work in your lap this won't be an issue. And the stand it fantastic so there's no reason not to use it! This is one of the best tablets you can get for this size .
If you want a portable display tablet then the Artist 12HD is your best choice. It's lightweight, sturdy, and built to the best specifications you can get from XP-Pen's display tablet lineup.
As you can see, this is practically everything that you need to start digital painting on the go. The pen is great and straight lines and curves are very easy to draw on the screen. The pressure sensitivity works well and the overall experience is good. You can definitely work on the go with this tablet. The stand is sturdy and holds the tablet at two different angles, adapting to your needs.
XP-Pen Artist 12 official store : https://www.storexppen.com/buy/artist_12.html
Commentaires
Ajouter un commentaire